Is coliving for you?
Many people talk about it... fewer act on it.
"Speak to anyone who lives in co-housing and you will find a variety of reasons for their choice. Some hope to place a smaller footprint on the earth. Some hope to experience comfort and companionship in their old age, or a multi-generational table to share a meal at. Some seek affordability. Common to all, however, is the deep-seated memory of a "village": a desire for community, for a stronger connection to fellow inhabitants of this shared planet."
-- Jacob Allerdice, "The Cohousing Option," in Canadian Architect, April 20, 2016
Many people use the terms coliving and cohousing in similar ways.
Cohousing most often refers to self-contained homes with some common facilities.
Coliving, as we understand it, includes private suites or bedsitting rooms, each with private ensuite bath.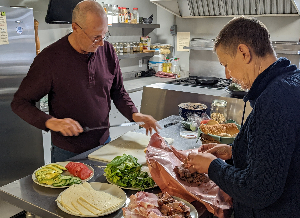 All other rooms are common, including the kitchen. It's one big home.
Some people think not having your own kitchen is a sacrifice. We think it's a benefit.
How do you see it?
We suggest you begin with our Coliving Self-assessment to help you think through some aspects of coliving.
Still interested? See How to Buy.